How to Maintain Your Rental Property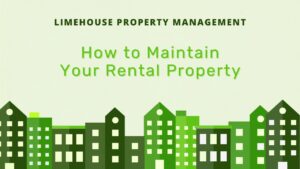 As a landlord, you are required to keep your rental home habitable for your tenants. You must perform specific tasks as outlined by the landlord-tenant law. To ensure that your rental is comfortable and livable, you must conduct regular property maintenance.
In this post, we are going over all the landlord and tenant responsibilities under the landlord-tenant law when it comes to property maintenance.
Landlord Property Maintenance Responsibilities
In general, landlords are required to perform the following:
1. Issue Trash Bins around the Rental Unit
To promote a healthy and hygienic environment, it's essential that landlords provide garbage containers in the rental home. You can decide the number and size of the trash can based on the number of tenants you have and how frequent the trash will be picked up by the collector. 
2. Supply Running Water
Running water is essential to make a rental place livable. As a landlord, you're expected to have functional toilets and showers so water supply is a requirement. In addition, you must be able to provide hot water. 
3. Adhere with Building Codes
You are expected to meet certain safety standards to create a safe and healthy environment for your tenants.
You must ensure that the smoke and carbon dioxide detectors are functional and place them in the appropriate location. You must also ensure that the home systems – such as the plumbing and electrical systems of the rental unit – are in great working order.
In addition, you also need to know how to handle the presence of mold, lead paint, and pest infestation.
4. Maintain Common Areas Well 
Renters often congregate in the common areas of the property. Thus, you must keep these spots clean and ensure that adequate lighting is available.
Safety must also be kept in mind. This means checking the stairs frequently to prevent accidents and ensuring that banisters are stable. 
5. Conduct Property Repairs 
Your rental property must always be in its best state. Therefore, if a tenant reports a property damage, you must find a way to fix it or schedule for repairs.
If a renter has caused the property damage to occur, then the repair charges must be borne by the tenant.
Tenant Property Maintenance Responsibilities
It's common to hear that landlords are responsible for keeping rental units in their best condition. However, tenants must also be aware that they're legally bound under the law to carry out their share of maintenance duties.
In general, tenants must do the following:
1. Keep the Rental Unit Sanitary 
Even if the landlords supplied trash bins, it's important that the renters throw away their garbage responsibly to create a sanitary environment. Improper trash disposal can lead to a health concern. It can also result in a pest infestation since dirty spaces attract rats and cockroaches.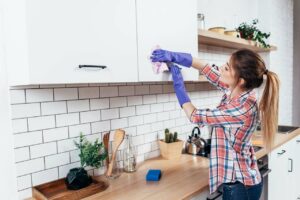 2. Ensure the Rental Home Promotes Safety
If there are things blocking the emergency exits, the tenants must get rid of them. Safety is paramount in an emergency and exits are designed to provide secure access outside.
Smoke or carbon monoxide detectors should also be functional and remain untampered with. Batteries should never be removed.
3. Follow the Building and Housing Codes
Building laws are implemented for a reason. That's why leasing agreements are specific in terms of the number of occupants to ensure safety. Renters must follow these rules to keep risks to a minimum.
Another reason for the imposed limit is to protect the property from excessive wear and tear which can happen when too many tenants are living in one unit.
In addition, utility bills also increase when many people are living in the rental space. This has an impact on landlords who are in charge of utility bill payments.
4. Prevent Mold from Multiplying
Mold easily occurs when excess moisture is created inside a property. Tenants must prevent this situation by performing simple tasks, such as switching on the fan or opening the bathroom window, to quickly dry up an area where moisture is gathered.
Should mold be found in the rental, the tenants must report the issue to the landlords so a proper solution is applied.
5. Respect the Property 
Renters are required to treat the rental home with care. This means keeping it reasonably clean and conducting the necessary end of tenancy cleaning. 
To support the property's maintenance, tenants can do the following:
Clean up plumbing fixtures after use to avoid rust and mold.

Tidy up appliances to prevent the build up of damage and dirt.

Prevent property damage resulting from abuse or neglect.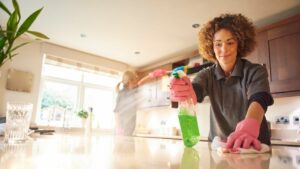 Reminder on Maintenance Responsibilities
It should be clear in the lease agreement that the property maintenance responsibilities are shared between landlords and tenants. While landlord's have duties to keep their rental unit well-maintained, so do tenants.
It's also important that the lease agreement states who's responsible for performing repairs. Should property damage result from a tenant's neglect or abuse, then the repair charges must be paid off by the tenant, or you can use the security deposit. However, if the damages are a result of normal wear and tear, the landlord should cover the costs of repair.
Bottom Line
Both landlords and tenants have their own responsibilities when it comes to maintaining the rental property. 
If you're looking for help conducting property maintenance in your rental unit, we're here for you! Limehouse Property Management is a reputable property manager. We'd love to help you achieve peace of mind.